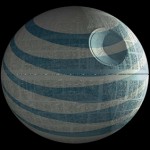 Gezz.. Its already old news that AT&T is buying T-Mobile but I have to chime in here.
I have been debating leaving AT&T since suffered under using the 3G because I did not want to change my contract, I know, I could have bought a 3gs off market, but thats another story.  I struggled between going to t-mobile and Verizon.   I only went with Verizon because I could switch between iphone and android as I choose, but it was a hard choice.  I heard great things about t-mobile customer service, good pricing and they were pushing hard on getting 4g up and running.
And now this…
So AT&T buys T-mobile for $39m.   In the short term, this does not mean anything.  It will take a number of months before we see any effect, and that is assuming this goes through the anti-trust courts in the first place.  But what can we expect if or when this merger goes though?  I would expect more little 'add-ons' with billings, those grandfathered in to their current plans should be good, but you could get screwed if you renew your plan, but that is about it.  Voice service may get a bit better now that both networks can share towers more efficiently, not I do not expect any major changes in the larger markets.  In fact, data 'could' get worse because more people will be on one data network, but I expect they will not try to integrate the data system for a long time.
So what does this mean to t-mobile users?  Especially if you are on t-mobile because you really hate AT&T like Scott Ramond does?  Sorry Scott my man, life is gunna suck for you.
BTW, yes I know I mixed a Star Wars and Star Trek metaphor.