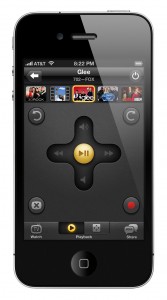 (first post written completely on my iPhone BTW) I stopped by the Peel demo in San Francisco during Web 2.0 expecting a simple iPhone IR remote. Wow, it's more then that.
Peel, the name of the app as well as the company created a very cool app that not only replaces your remote but creates a far more intelligent user experience for watching TV.
Funded by Red Point ventures, this 2 year old company put together a really nice user experience that not only allows you to sort and filter the various shows, but you can schedule shows, control your DVR, and it even learns your viewing habits. Now it's this last point that really excites me since I tend to watch the same shows at the same time. Sweet!!
Note!  It will not automatically change the channel for you at the right time / day, however I asked for this be put on the future feature function list, so if this happens… your welcome.
Now this is just a demo I have seen so far. I have not got my hands on one and connected it to my home unit yet. One thing that concerns me is supporting the various modes, I use my 37 LCD Mitsubishi both as a tv and a computer monitor. Since Peel is suppose figure out my system, how will it know exactly how my set works in computer mode?
Although the unit is available now for $99.00 good luck getting one. Depending on where you are, they could be sold out or not stocked at all, so get yourself on a waiting list.
The video below gives you a hint, but for too 'marketing' for my taste.  If I can find a better video I'll replace it.  But for now, check the video below.