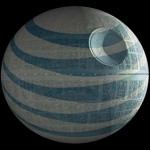 WTH?  According to VentureBeat, seems that AT&T has been sending letters out to subscribers of MiWi, a jailbreak app that allows tethering of multiple machines to you iPhone. I use PDANet and have not seen such a letter yet, but I'm keeping my eyes out.  The letter basically states that if you use a non native tethering application, that you will be automatically subscribed to AT&T's service plans will be automatically updated to AT&T's DataPro 4 gigabyte tethering plan ($45 a month) if they continue to use free tethering apps. Now I use PDANet mostly because I have my old 3G and never upgraded beyond 3.1.3 and thus only PDANet works on it.  Now that I have moved to Verizon, I may never see such a letter.
Something doesn't sound right about this though… from a legal point of view I mean.  Can AT&T FORCE me to purchase a service I do not want?  We already had the ruling that its not illegal to have jailbroken apps.  Now for a service provider to force me to pay because of how I use my dataplan?  Cue the lawsuits.  When the talk about limiting HOW much data you consume, I was not that riled up.  Yes, if you buy an unlimited account, it should be unlimited, but all future accounts having levels, sure.  But to charge me extra because I'm using the SAME amount of data differently?  No this is all FAIL to me.   I checked the MiWi site and nothing on it yet.
I've done some checking around and seems they have been sending text messages and letters.  None of the products are listed by name, but it looks like they are pretty serious about it.  Funny thing, nothing from Verizon yet.
Image from 9to5 mac.
Dear [Name of Account Holder],

We've noticed your service plan may need updating.

Many AT&T customers use their smartphones as a broadband connection for other devices, like laptops, netbooks or other smartphones– a practice commonly known as tethering. Tethering can be an efficient way for our customers to enjoy the benefits of AT&T's mobile broadband network and use more than one device to stay in touch with important people and information. To take advantage of this feature, we require that in addition to a data plan, you also have a tethering plan.

Our records show that you use this capability, but are not subscribed to our tethering plan.

If you would like to continue tethering, please log into your account online at www.wireless.att.com, or call us at 1-888-860-6789 Monday – Friday, 7 a.m. – 9 p.m. CST or Saturday, 8 a.m. – 7 p.m. CST, by March 27, 2011 to sign up for DataPro 4GB for Smartphone Tethering. Here are details on the plan:

DataPro 4GB for Smartphone Tethering
• $45 per month (this gives you 4GB in total, combining both your smartphone data plan for $25 and the tethering feature, $20)
• $10 per each additional GB thereafter, added automatically as needed
• Mobile Hotspot capabilities are included for compatible Smartphones

If we don't hear from you, we'll plan to automatically enroll you into DataPro 4GB after March 27, 2011. The new plan – whether you sign up on your own or we automatically enroll you – will replace your current smartphone data plan, including if you are on an unlimited data plan.

If you discontinue tethering, no changes to your current plan will be required.

It's easy to track your usage throughout the month so there are no bill surprises. For example, we send you free text messages when you reach 65, 90, and 100 percent of your plan's threshold. If you would like to monitor your account more closely, go to www.att.com/dataplans to learn about other ways to track your data usage.

As a reminder, our smartphone data plans also include unlimited usage of Wi-Fi at no additional charge. AT&T smartphone customers can use Wi-Fi at home or on-the-go at any one of our more than 23,000 U.S. hotspots already included in your data plan.

Thank you for bringing your account up to date. We appreciate the opportunity to continue to serve your mobile broadband needs.

Sincerely,

AT&T

Please update your data plan by March 27, 2011 if you intend to continue tethering

To learn more and update your plan, visit att.com/dataplans

Reach us for assistance during business hours: Monday – Friday 7 a.m. – 9 p.m. CST Saturday 8 a.m. – 7 p.m. CST at 1-888-860-6789