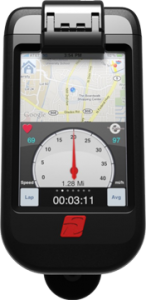 Another cool option to measure your speed, power, heart rate, wind speed, time, trip, elevation, and calories. Dash has a cool feature called the "HR Pacing Meter," you can see at a glance whether your heart rate in the right zone. The HR Pacing Meter determines your fitness level with 5 Heart Rate Color Zones from 50% to 100%. These zones indicate the degree of difficulty you will experience when cycling in each zone at your fitness level: from Blue (very light) to Red (very hard). Each of the zones address different goals, from losing weight in the bottom zones to improving fitness in the middle zones, to maximizing performance in the top zones. After regular exercise, you'll find you're able to exercise more comfortably in the upper zones and for longer times in the lower zones. It also tells you when your cycling effort is optimal for burning fat; how many calories you're using during the ride, on all rides this week or all rides this month; what speed and distance you're traveling; and even where you are on your bike route. Also, iBike Dash CC can help you set some personal goals, measure your progress and allow you to adjust your performance.
Here is more info from the press release…
iBike Dash CC Features:
50 power-based and Heart Rate (HR) zone workouts.

Includes ANT+ speed sensor with optional sensors for cadence and HR.

User customizable touch screens display cycling information in color with unique graphics and animation.

Features easy-to-read large fonts with back-light display for night-time viewing.
·         iPhone's GPS, map, and weather capabilities operate seamlessly with the iDash, greatly enhancing the rider's experience.
·         Power-based indoor trainer feature.
·         Bike odometer.
Calendar feature keeps track of weekly cycling stats, including calories, miles and speed.
·         HR Zone dial presents cycling exertion in an extremely intuitive manner.
·         Easy-to-follow, on-screen instructions and instructional videos.
"Phone BoothTM" dashboard/case houses circuitry, keeps out water and absorbs shock.

Easy to install, use, and move from bike to bike.

No need for calibration.

Allows seamless hands-free calls using your iPhone and Bluetooth headset with no interruption to ride data collection.

Allows full use of touch screen, even while wearing cycling gloves.

A rechargeable/replaceable spare battery can be housed inside the "Phone Booth" to extend the

operating time of your iPhone/iPod touch.
·         Compatible with all ANT+ speed, cadence and HR sensors.
The iBike Dash CC is available immediately for iPhone and iPod touch, priced at $199 MSRP for the basic version and $329 MSRP for the advanced version with additional features (including cadence, HR, calorie measurement, battery and charger) through the Apple Store at: http://store.apple.com/us/product/H3828LL/A or Velocomp at: http://www.ibikesports.com/ibikestore.html.  iBike Dash CC includes the holder, mount, wireless speed sensor, iBike app for iPhone or iPod touch, and iBike software for Mac and Windows desktop computers