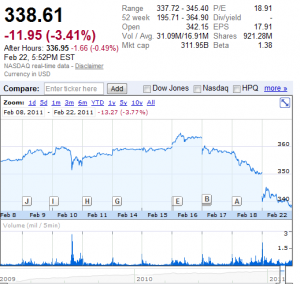 Ready?  The iPad 2 will be announced on March 2 to what I would expect will be quite the fan fare.. The fun part will be to see what rumors will be true and other fancy or slated to the iPad 3.  This could be the news the Apple shareholder needs to hear to get off the Jobs cancer story.  Since Feb 17th the stock has dropped from $363 to $338.  To put this in context; the Dow was down -1.44% and Nasdaq was down -2.74%.  Hopefully the buzz buildup to the ipad2 release will stop the slide or perhaps even reverse it. We will find out as we get close to March.  Till then I expect the price to drop a bit more between now and then.  We could even see it nose to the 30x.00 level.  I would think about buying if that happened.   But enough about stocks, lets talk ipad2 features and functions.
Here is my list of iPad2 features:  I removed the ones I think are less then %50 likely.
Front and rear facing cameras and facetime support.  This was an easy call.  Expect at least a 5 meg camera with the same capabilities we see on the iphone 4.  Yes there will be LED flash. Although I'm not as certain on the rear facing camera.  I would not be shocked if this gets chopped.
The same video editing packages we have on the iphone 4 but with better social media integration.
Retina display.  The only think making me hesitate on this is the cost. But I could see them using it as a selling point and thus validate the expense.
Macbook Air like design.  I would not look towards the iphone4 for the new design.  That was mostly driven around the need for a better antenna.
We'll probably see a 1.5GHz version, and we'll definitely get at least 512MB of RAM to bring the iPad up to par with the iPhone 4.
3-axis gyroscope for improved gaming.
Expanded support for AirPlay streaming. I'm hearing this from other places.  Makes sense though
Better integration with the new Apple TV.
From All Things Digital
…. Analysts expect the iPad 2 to be thinner than its predecessor and feature an improved display, as well as front-facing camera and Facetime video chat support. And some reports suggest it will be powered by one of Qualcomm's multimode chips and will run on both GSM and CDMA-based networks around the world.
In its last earnings calls, Apple said it had sold nearly 15 million iPads, since it went on sale last spring.
This is a very big deal, although Apple will be facing increased competition with the launch of a passel of tablets coming from numerous manufacturers, most of which are using the Honeycomb version of Google's Android mobile operating system.
According to several sources close to the situation, the Wednesday date in a little more than a week is firm and will take place in San Francisco, the scene of many such Apple events.
In that case, the venue is likely to be the Yerba Buena Center for the Arts.
It's not clear when Apple will begin sending out its famous invites for the gathering, but I am guessing soon, in order to get the Apple faithful to the proper level of froth. ….
From VentureBeat
… The news follows a report from an analyst firm earlier this morning that Apple would be delaying the iPad 2 due to "production bottlenecks." Indeed, it seems rather coincidental that we get our first wind of the iPad 2's official unveiling after Apple's stock began to take a hit from the delay rumors. Apple shares were down 3.4 percent to $338.61 on the NASDAQ this afternoon.
We reported earlier this month that Apple had begun production of the iPad 2.
Like with every major Apple device launch, rumors about the iPad 2 have been floating around for some time. By this point, it's pretty clear that it will feature front and rear cameras — although the back camera may be lower quality than many hope. It's also expected to be thinner and slightly lighter than the current iPad, and it will likely run Apple's new dual-core A5 processor. …