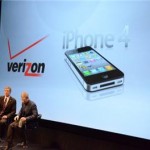 Updates on the iphone 4 for Verizon as I get them..
"It has all the features you'd expect. Like Facetime. Like the Retina Display"
All the same specs so far; 5 megapixel camera, HD video recording, A4 chip
customer service delivery has been scaled up.. they plan to see a lot quickly..
Feb 3, existing customers get chance to preorder.
Will be $199 for 16GB, $299 for 32GB. Will act as 3G WiFi hotspot for up to 5 devices.
On Feb 10, it's open to everyone at Verizon and Apple stores
Vz: no comment on pricing strategy.  Weak.
..and thats it.  VERY few details.  Nothing on the plan pricing, just the delivery date.  Ah well, guess they are going to stretch this out.  The big question was will people lose data when a call comes in. Answer, yes.  No surprise.