When I first saw this for a second I thought it could have been a joke, but no, this is real, and I can actually see the usefulness of such a case, but I'm sorry, I cannot see walking around in what looks like a baby carrier 'just' because I'm too busy to find a place to set my iPad down.  yes, yes, there are many use cases where you may find it useful.. but it doesn't make it look any less dorky.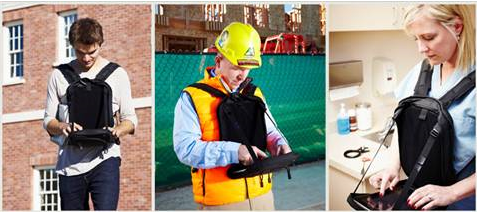 From the press release..
The Defender – iPad Front Tech-Pack
Perfect for active, technology-savvy individuals needing to securely carry and use an iPad while staying mobile, active, and hands-free. Complete with plenty of compartments for carrying your wallet, phone, charger(s), pen, notepad, credit cards, and more – this bag is the ultimate mobile office.
Suggested Retail Price: $129.99
The DEFENDER!  Yeaa babee!!