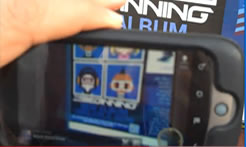 Last month I blogged and shot a video showing off a Black Eyed Peas augmented reality app I made using Metaio's Junaio platform. At the time, I was surprised that Metaio didn't share or retweet with their community this app I made as they usually do with work that others do with their platform and tools. Now I know why.
Today I saw Metaio's press release stating, "The Black Eyed Peas debut in the world's first 360-degree mobile music video."
Information on the app from iTunes:
With BEP360 you can be dropped into the party with the worlds first 360 mobile music video. Hold up your iPhone4 or latest iPod Touch and watch as the BEP perform their hit single "The Time (Dirty Bit)" with you literally at the center of the party. Physically look around to change the view as you experience the song in innovative 360 degree video.
The app also features a cutting edge Augmented Reality experience. Just point your device at the album cover and see one of the Baby Peas popup and move to the beat. A chat bubble on top of their head reveals their latest tweet.
Snap a pic of one of the Peas in your world and upload it to BEP EARTH where you can see people from all over the world sharing and celebrating their love for the BEP and their music.
Step into the Photo session and conduct a virtual Photo Shoot with the
Pea of your choice with the first ever virtual camera experience.
The Pea's twitter streams are visualized for you and at the tap of an icon.
Finally a really cool puzzle game will keep you in the app for hours of fun.
From what I saw in the video of the app working at the Will.i.apps site, it seems to use the accelerometer and compass of the iDevices to provide a 'virtual camera' type effect for navigating the UI, looking at content, and watching the music video. A very clever technique for interaction.
Although iTunes lists the developer of the app as Talent Media LLC, the press release states the app is a collaborative project between Will.i.apps, Metaio (for the AR), and 3D360 (for the 360 video).  The BEP360 app is available for $2.99 from the App Store on iPhone, iPod touch and iPad, or at:www.bit.ly/bep360app.
The QR code on the poster still doesn't do anything, but I am glad to see the BEP get such a cool app.