Just got an iPad eh?  But did not get the 3G version?  Thats ok right? Just connect to WIFI.  But if you do have has WIFI when your travel?   Well, there's an iPhone app for that.  Jailbroken of course.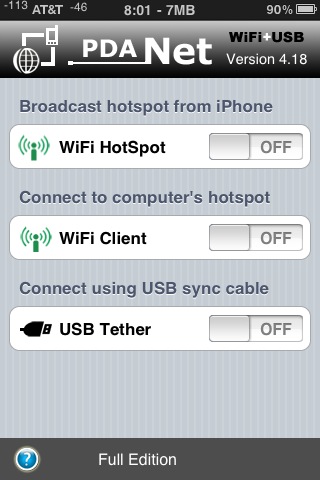 I wrote about using GPS on your ipad a few months back.  To use GPS you need to connect to a bluetooth GPS unit and at the time of the writing, I recommended that you preload your trip ahead of time because the only wifi based tethering app for the iPhone was not working.  Last month, PDANet, one of my top 10 jailbreak applications; finally has non per to per WIFI tethering.  Win!  This worked so well, that was actually able to have a skype video call with my brothers while bring driven down the I5.  Well for as long as I had 3G.
PDANet also works for Androids too, AND blackberry, AND windows.
PDANet is $10 but well worth it.