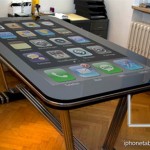 OMG.  This is nothing short of pure WIN!  DO WANT!!  Its called the iphone Table (table.connect), pretty logical,  and basically you connect your iphone to a cable and (for now) pull up a dedicated app and them boom!  You have your iphone on this monster table!  And the table responds to touch.  You have to check out the video below.
Right now, it does not support the iphone 2G or 3G because the processors are too slow, but hey, fair enough..  No mention of the iPad yet, but I would think that should not be too hard to sort out.  In fact, I would think the iPad would give an even better experience because of the faster graphic processor and larger graphic memory cache.
Regardless, this is great!  Use case?  Ok, aside from Games, how about product demos at shows?  Meeting using face to face video?  Ok, you would have to tilt the table, but big deal.  Man, I cannot wait to see this!!
BTW, remind you of something?  The d&d gaming table we saw a year back?  Yea!  We are on the way.
I would like to give a thanks to Miguel  E. Elasmar @24klogos for giving me the heads up on this bad boy.
Ok, check out the video below.