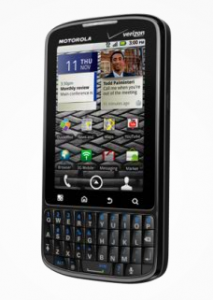 Or, I guess you can say, the new Driod Pro by Motorola  is what BlackBerry has been trying to build; a business centric phone that focuses on office file formats, exchange support, high security and remote phone management that is highly required by any corporate operation.  The hardware in itself is not that impressive.  Its basically the normal specs you see on all good smart phones with exception to a keyboard that looks a LOT like a blackberry keyboard.  But its the software layer on top of the Android OS that is interesting:
Quick Office
High security
Remote phone wipe and control that would make a SYS Admin jump for joy
Mobile Email: IMAP and POP, Microsoft Exchange, Gmail™, MSN Hotmail®, Yahoo!® and AOL®
Supports Corporate calendar, email and contacts (Exchange 2003, 2007 and 2010), Google contacts, calendar and Gmail™, Facebook™, MySpace, Twitter and LinkedIn contacts
800/1900 CDMA EVDO Rev. A with dual diversity antenna, 850/900/1800/1900MHz GSM, GPRS Class 12, EDGE Class 12, 850/1900/2100 WCDMA (category 9/10), HSDPA 10.2mbps, HSUPA 5.76mbps
…and the normal stuff.  5meg camera with LED flash, auto focus, etc..   Music player, FLASH!, GPS, Wifi, and so on.
I have not had my hands on this guy yet but I'm going to start keeping my eye out and give it a try.