Ever wanted to listen to AND read an ebook?  On your iphone or ipad?  Well this app is for you. vBookz is a pretty cool little application that takes an ebook or ePub file and read it to you using text to voice technology from Acapela pleasant voices.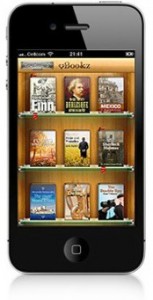 The voice translation is not perfect by a long shot, but its good enough to get the meaning of the text.  So passages actually sound pretty good once you get used to the computer generated voice.  However, the real win here is that we can both read a book, since the text is displayed and then continue to listen to the book started off where you left off. You can choose the voice type, right now it male or female and you can choose the reading speed.  This is very useful in case what you are listening too is more about information consumption and less about enjoying the writing.
They have 30,000 books available and because the text is read in real time, the download time and storage of each book is much smaller the getting a set of sound files.
As nice as all this is, the exciting part is the possibility of being able to upload your own text!  I chatted to the creator via email and asked about this possibility.  They are working on it now.  There are plenty of text to ePub converters out there.  Once this come out in beta I'll check for the latest options for text to ePub and post it.
The App is in version 2.  Here are a few cool new things about it…
• vBookz adds orientation and navigation tools that enhances the reading experience.
• An interactive cursor allows users to follow along, pause reading or even repeat lines or paragraphs to ensure reading comprehension.
• Combining two senses together – sight and hearing – helps children and those learning to read in a second language.
On the innovation side:
1.    Animating the cursor in perfect sync with the Text-to-Speech engine
2.    Calculating the reading time for the entire book rather than giving the user arbitrary page numbers that changes when you re-size the fonts
3.    Video controls with time elapsed/time remaining and rewind/fast forward controls