Xmarks for the iphone as been out for awhile, and I tried it when it first came out and was not impressed.  The crashing of my iphone had something to do with it.  Well version 1.3 just came out with the one feature I was really waiting for; Automatically synchronize bookmark changes in the background.  This may seem like a small thing, but for me its the difference that made me try it again.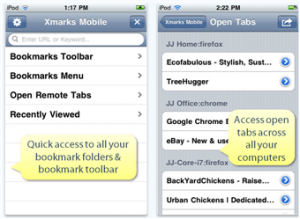 I still wish I could control what web browser it opens in, but still, this is a great improvement. I also like the upgrades on the  website for managing my links.  I have not looked at that for a year. :0  All and all, pretty good from the last time I used it.
its 99c in the store, give it a shot.
http://itunes.apple.com/app/xmarks-for-iphone/id381187793