Ok, cheesy blog title, but still, this is pretty good.
There have already been a number of virtual guitar amp and effects products for the iphone and ipad, and I've tried a few, but amplitube and ishread (ishread I will over in another post) stood out.  Now, if there is really good product I missed, please let me know. AmpKit by Peavy is not out yet.)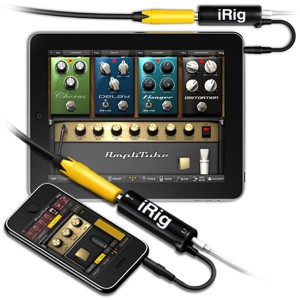 So back to Amplitube iRig. I have this both on my iphone3G and my iPad, I also have the recommended cable. I did play with it on my iphone3G and although I started to feel some lag as I added effects, it was not too bad.  The experience was far better on the ipad especially as I was doing fast scales.
The cable adapter is good. You use your own 1/4 cable to connect  to the adapter and then a 1/8 to hook up your headphones or as I like to do, connect to my computer speakers.
AmpliTube for iPad will be available in 2 versions: FREE and FULL.
The free version includes 3 stompboxes, 1 amp+cabinet, 2 microphones. More gear can be added to FREE version through an in-app purchase of a-la-carte models with stompboxes costing $2.99 / €2.39 each and amplifiers+cabinets for $4.99 / €3.99 each. AmpliTube FULL includes the entire collection of available gear with 11 stompboxes, 5 amps+cabinets and 2 microphones for $19.99 / €15.99.
I downloaded both the free and the full version and although the free version is more then useful, having the various cabinets to choose from was a big plus for me.  What I really liked is amp interface, although using it on the iphone was a bit tricky because of the limited screen size, but once you have the sound you like, then it does not really matter that much.
Here is the only thing I do not like. I cannot simply call an mp3 on my iphone/ipad and start playing with it. I have to instead load a music file by opening a browser on my computer on the same wifi as the iphone / ipad.  Its not the end of the world, but it would be nice if I could play right from my music library.