Oh man. Tom Tom and other GPS companies are rolling over in their soon to be mobile graves. AT&T's monthly fee based turn by turn, questionable to even support it anymore. Google turn by turn is already available on Android and soon to be on the iPhone. We already know that, but the news is that's is 'official'.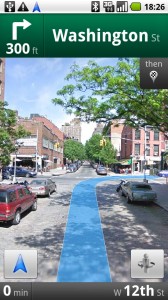 Yes, Google announced that turn-by-turn navigation is coming to the iphone. I have not tried the Android version yet but from what I have seen online its looks really promising. The only downside to using the iphone for Nav is the small screen so you KNOW someone is going to build a car mount for the iPad. Yea, street level turn by turn on that big iPad screen?? Yeaa baby!
My main curiosity is how is the voice guidance going to work through the web player? Unless they release it as an application, and then I could see Apple trying to block it. But predicting what apps Apple will or will not block is about as easy as guessing a coin flip. Either way, I'm just glad I do not have a GPS Nav app for the iPhone as my business.