I'm not a big sports fan of BBall, I'm more of Collage football type, but the Cal Bears are in the big dance this year and I did the office brackets, so what the heck.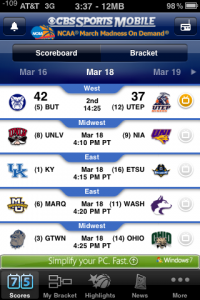 First step?  Download an app for the iPhone of course.  I did fail at step one though, I tried doing it at work in the SOMA area of San Francisco.  Took 15 min to download the little free app from CBS.  #Fail.  Ah well. Still, its done.  There were many options, but the CBS apps seem to be the best if for no other reason then CBS sponsors the playoffs, so no shock they will have access to the best info and video.  You can also stream audio and video on the paid app. $10.  Not bad if you really into it.
As for me, I got the free one, mostly to check my brackets and get the scores. (I did think the music at start up was cool.. at first, got tired of it pretty fast.  I'm sure there is an option somewhere to stop it.)  With exception to Cal, I don't feel I need to watch it on my iphone.  However, a friend has one and although its a bit jumpy on wifi, its useless with 3G…  At least here in San Francisco.
But the free one is pretty good.  I was going to download a few to compare, but between real updates on my bracket, quick score refresh, news, and video highlights, I think I'm pretty set!  I grabbed some screen shots from the CBS site, but I will update with a shot of my brackets in a few days.  So far, eh… got 5 out of 7 right.
Ok, so check these screenshots.