Augmented reality apps on mobile has been news off and on over the last few months. There are have been a series of cool apps, and I even posted part of an article I write for iphoneLife here. But even with the parade of cool new apps, we have only just touched on the possibilites.  But creating a AR app is not that easy.  Well now its became just a bit easier. A company called Unifeye has created an AR API layer for the iphone, Windows Moble (WinMobile) and Symbian.  What no Android??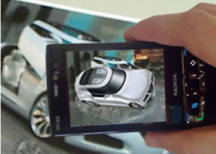 From what I read, the SKD looks pretty straight forward although I do not think the winmobile version will ready for version 7 yet. Now this SDK not just for mobile devices and most of the demos are on a PC, but that is a plus in my mind, a kind of write once almost deploy anywhere.  Hopefully we should see a string of cool new apps coming out.
Now check out this video..