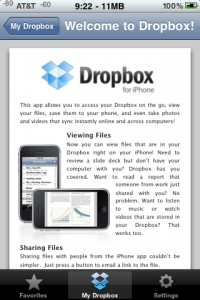 Just got on email on this today.  I can access my dropbox on my iphone.  Sweet!  I gave it a try just a few minutes ago and I was able to open my office documents (tested word and excel).  I also forgot I dropped a few mp3 files in there and was able to play those on the iphone.  Now I cannot EDIT my files, but still, access even as read only is still great.  Of course, I could cut and paste if I need to edit, but thats not the point.
Saving certain documents as favorites and emailing documents seem to be the only options so far, but still, very useful.  And its free!!  So what are you waiting for?  Download it.
..and now… some screenshots.