Ever find yourself in a hotel, want to watch a movie on your iphone?  Laying on a bed holding your iphone can get a bit tiring after awhile.   Well check this out. You can rig up an iphone holder using hangers and a plastic bag!  This assumes there is a lamp right over the bed.  Else, Duct tape it to the ceiling!!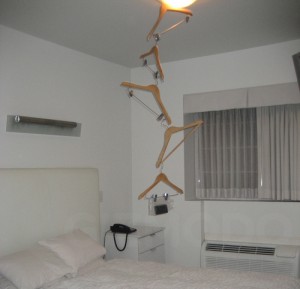 Cool eh?  Saw this in Gizmodo.   Now you can use this technique with the iphone holder while flying to the hotel.
Check the story on that here..