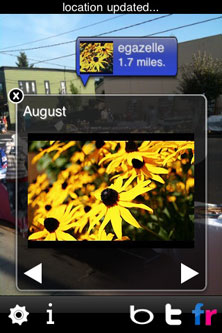 Just saw this on Techcrunch.  It looks pretty cool although I could not get it to work quite right.  Could be a GPS issue. Anyway, I think this is just the beginning of a flood of location / orientation away apps that are on the way.   And the fact this is using Bing is quiet interesting meaning plenty of other people will be using it too.
From their website:
Key Features:
Type in anything with Open-ended Search
Get a birds-eye view from Google Maps by looking down
Quickly select from popular location categories like Coffee Shops and Tourist Attractions
Discover rich, social content like Flickr and Twitter, with more on the way!
Easily jump to more info on Bing like restaurant reviews, call a location or get driving directions
Touch to select and navigate through items around you
Set your range with an Adjustable Radius
Check it out.