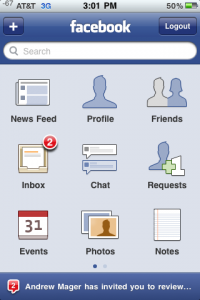 What? You never hear of Steve Martin's 'The Jerk? Never mind.
So the new iphone facebook app is out.  You need to delete the old copy and install it anew until Apple updates its store.  It's not overwhelmingly great or anything, but its IS better. 'Couse, everyone is trying out the new app so you may have to try a few times to get in.  And once in it runs a bit slow.  But then again, I'm in San Francisco's SOMA area, so AT&T is not a win here.
What I really like is the landing screen.  Nice icons to give you one click options to get newsfeed, inbox, chat, etc.. The events page is better, more details, although I think they could have done a better job on the UI.  Seems clunky to me. There is an option to add favorites on the landing page a la iphone home page. Since I'm not a big FaceBook user, I do not have many favorites.  The default page on opening is news, and that makes sense because FB wants you to post. (Chasing Twitter.

Over all, if you have facebook on our iphone now, even if you rarely use it, get the upgrade. Its free so what is to lose?
Now.. to the screenshots!