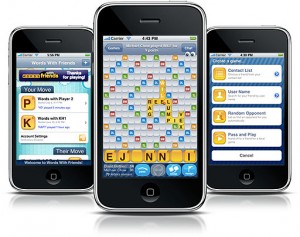 I like Scrabble even though I'm not very good at it.  However, I have a few friends that are just NUTS for the game.  So when this press release came in my email today I thought I would share it out.

  Oh, and wonder why they cannot call it 'Scrabble"  Trademarked my friend!
"From Newtoy, creators of the smash hit Chess With Friends, comes the next handheld gaming sensation: Words With Friends! Featuring the phenomenal 'turn-based' multiplayer gameplay that made Chess With Friends so popular, Words With Friends is the ultimate crossword game for your iPhone or iPod Touch."

Start games with your friends directly from your contact list, search by user name, play locally with 'pass and play', or choose random opponent and get matched instantly with a new challenger. Words With Friends makes it super easy to get your game on, anytime, anywhere!
Click here to download Words With Friends free right now, and find out why so many people are hooked on the latest iPhone and iPod Touch gaming addiction!  "
Its .99c but you can also get a free version with ads.  Let me know how you all like it.