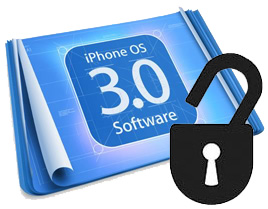 This did not take long did it?  But the funny thing is that it did not come from the Dev-team, but instead instead from George Hotz. Now this is windows only (sorry mac people) but I'm sure it will be ported soon enough.  Now remember this is 3.0, so if you are running the 3.1 SDK, dont use this.  I've also heard this is compatible with ultrasn0w, so that should keep unlock options open. WARNING though, winter board does not work with this unlock. Not sure why.  So I would view this as an experimental break unless your like me and like to keep you iphone clean of everything but functional software.
I have not tried it myself because I have been holding back on the buying the 3GS. But I'm also not that thrilled because I'm still hoping 3.1 will fix my cell issues, and that may delay breaking 3.1 once Apple finds out. Most likely I will make the leap, but I want to give this latest jailbreak a few days out in the wild. I may also wait for a proper version from the Dev-team.  Well see.  Course, I still need to decide to keep or sell my current phone.

So here are the steps..
Make sure you have the latest iTunes installed, and an iPhone 3GS with 3.0 firmware. Connect your iPhone normally. Click "make it ra1n". Wait. On bootup, run Freeze, the purplera1n installer app. Hopefully you'll figure out what to do from there. Best tutorial gets linked to from purplera1n site. This tool is beta. Make sure to have everything backed up before running. Also if Cydia doesn't show up after running Freeze, reboot.
Get it here. http://purplera1n.com/
Now if you want more detail, this looked like a well kept up site..
http://thebigboss.org/2009/07/03/iphone-3gs-geohot-jailbreak-posted/