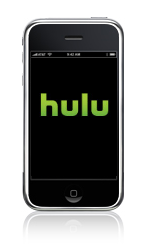 Actually, I'm not sure I should even call this a rumor.  I mean why not?  I do not think youTube has a contract or anything that would incourage Apple to keep them out.. so I say Hurraa and speed it up!
From the webware site:
Silicon Alley Insider is reporting that a dedicated Hulu application is indeed on its way to the iPhone and should be here in just a few months.
SAI says the application will work over Wi-Fi and AT&T's 3G network, meaning that users will be able to view programming anywhere with a fast data connection.
Rumors suggesting that an iPhone-friendly version of Hulu swirled around this time last year, however, they predated the launch of the App Store, and Hulu flat-out denied that one was being worked on.