{update}
Well, seems like we WILL get a flash!  Wow.

  Updated post on the iPhone4 here…
Lots of chat about the 4G, each place I've checked out for info seems to read like rumor.  Lots of images out there too.  Here is one that was emailed to me..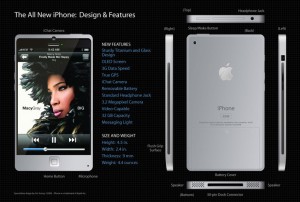 Its pretty certain Verizon will be supported and we will get a better camera.  Perhaps even a flash??  naw…
One thing that is hot on the rumor mill, I think the idea of an iphone app vs an ipad app will go away.  Although, Apple would be losing out on some cash of this was the case.
So what can we expect, hope for, reasonably hope for?
I expect around the same size, same weight.
No removable battery. (Sigh – I think its game over on this one)
Camera in the front.
Mic on the front.
Faster CPU – 1g
32g, 64, 128g options
Better GPS, turn by turn native.
Better blueTooth support
CDMA support.  But we already know that.
OLED screen?  Or somehow support HD video? ( I'm thinking unlikely on this too)
Other thoughts??
Remember, this is a full rumor control alert!