Once I saw this I knew I had to buy it.

Often, when I've had a good bottle of wine, I would take a picture of the label so that I could buy that bottle later.  However, because of the focal length of the iphone's lens, I would only be able to read the larger print.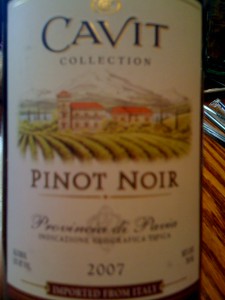 here is the text from the Griffin site..
Clarifi is no ordinary polycarbonate case.
That's because, when the details matter, Clarifi's built-in lens gives your iPhone a boost in camera resolution.
Slide the Clarifi lens into place over the built-in lens of your iPhone. Your macro and close-up shots are instantly finer in detail, more accurate in color. With Clarifi's lens, your iPhone can image an entire business card with astounding clarity. Slide the lens aside for normal photography. Without Clarifi, iPhone requires about 18 inches to focus properly. Slide Clarifi's lens into place and you can move in to 4 inches for crisp detail and great pictures.
I just ordered it yesterday, so I will do a test and further reviews when it comes in.  The list price is $34.99, however if you type Macworld2009 in the discount code box, it will knock off $8.75 bringing the price to $26.24.