Sweettt.  Can't wait for this. I would have to say my main complaint for playing music on the iPhone is having to type in a password just to advance a song.  Well, looks like we have an app on the way to take care of that issue. I also do not care for itunes, freedom!!
From the authors site:
Key features include:
– For Linux, iSlsk users and iTunes haters: File system playback. PwnPlayer reads any folder inside your iPhone/iPod file system and will play mp3s the same way MobileMusicPlayer does, with playlist, artwork and add/remove/tag edit support. Simply drag and drop your mp3 files using your favorite file browsing app such as WinSCP, CureFTP, CyberDuck or iPhoneBrowser… Or download them using iSlsk or any other music download app!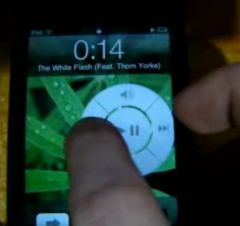 – Music Library compatibility: if you still want to keep using iTunes *vomit*, PwnPlayer is fully compatible with the internal music library
– Search: type in the first letters of the song/artist/album/file you are looking for, tap search and it will appear right there for you.. works both with music library and file system songs.
– Lock-Screen gesture controls: this is one of my favorites. You can control your PwnPlayer by swiping your finger on the lock screen, for easy handling from your pocket.. without having to unlock the device. If you haven't seen it already in the video above, here's a screenshot:
– Playlist managing: Create, edit, and remove playlists on the fly easily.
… plenty more on the site.  Go here.. 
I check Cydia everyday, so as soon as I see it, you will see it.